Wildlife Pictures
---
Pictures on this page are thumb-nailed. Click on them to see the full size image.
If you have pictures that you think would look good on these web pages I would be happy to see them and probably publish them here. Send them as attachments to an e mail to john@havantnature.net. It helps me if the file name is changed to 'species - your name'. That way I won't use your picture in future without giving proper credits. Thanks in anticipation.
---
Photographs, taken by Diana Franklin, of a seal off the Southsea shore by the bandstand near the castle on 10th JUne 2018.
Orchids in hanging basket
This (?) common spotted orchid just appeared in a hanging basket of miniature narcissi. It was there last year but didn't bloom so I wasn't sure what it was but this year it has a bloom. I wonder how on earth it got there. The wind, or birds or some such I suppose but it is a bit strange.
Adele Mallows. Alternative explanation might be in the soil or on the narcissus bulbs. (JG)
Early purple orchids and other Butser flowers
Green winged orchids at Gunner Point in April
the first picture is by Andrew Powling. My picture shows a pale version .
Long Tailed Tits Nest
Adele Mallows picture taken at the end of March. Sadly the nest was later destroyed by a cat.
Nore Barn shanks
The first picture show, from left to right, spotted redshank, common redshank and a green shank.

Then there is the usual colour ringed greenshank

and the regular spotted redshank that has now been coming to this beach/stream for over 14 years.
Wood blewit at Nore Barn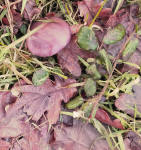 Seen on 4th Jan 2017 - photographed on my phone
Mid July on Portsdown
Bastard toadflax, clustered bellflower and lesser centaury.
The Langstone Pond Water Rail on 22nd Feb
Southsea Gulls on 18th Jan 2016
These two pictures by Peter Hogan are of a first winter Iceland gull and a glaucous gull - at Southsea on the same day!
Buzzards over Portsdown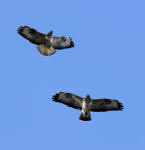 ---